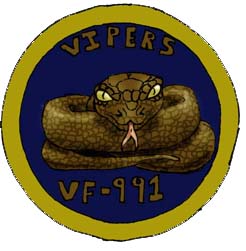 "Viper" Squadron

Commanding Officer None
Executive Officer None

VF-991 is charged with the primary patrols for the TCS Diligent. They fly the Vampire Space Superiority Fighter, and also serve in an escort role for strike missions. They can also serve as an alternate Point Defense Squadron.

Currently, 11 Hellcat Fighters and their associated crews are assigned to this Squadron.